About
Since 1964, Ed Lucas has worked as a reporter/broadcaster, covering the New York area sports scene, despite being totally blind, as he has been for the last 67 years.
Ed's success in this competitive field while overcoming a disability has led to many opportunities to speak to crowds both large and small on motivational matters relating to facing life's challenges.
Ed's History
On October 3, 1951, Ed was at home in Jersey City watching a baseball playoff game between the Brooklyn Dodgers and his beloved New York Giants. In the ninth inning, Bobby Thomson of the Giants stepped to the plate and hit the game winning home run off of Dodgers pitcher Ralph Branca, in what would become one of the most famous moments in American sports history, known as "The Shot Heard Round the World." When the dramatic game on TV concluded, Ed went outside to play sandlot ball. A few minutes into the game, he was struck between the eyes by a wicked line drive and lost his vision. It never returned.
Depressed and scared about his future as a blind person, Ed pictured himself as a helpless soul standing on the corner with a cup and a cane selling pencils. His mother did two things that changed his life. First, she enrolled him in a residential school for the blind, a revolutionary institute run by disciplinarian nuns who believed that blind people could do anything they set out to do if they could learn to be independent and have self confidence. A "no cup or cane" mentality was instilled.

At the same time, his mother wrote letters to Leo Durocher, the manager of the NY Giants, and to Bobby Thomson, the home run hero, explaining what had happened to Ed, and how his love of baseball was the only thing lifting his spirits. Durocher invited Ed to be his guest at the Polo Grounds for the 1952 season. Yankees star Phil Rizzuto, who worked at a New Jersey clothing shop in the off season, heard about Ed's story, and also befriended him.
In 1958, just seven years after losing his sight, Ed enrolled at Seton Hall University, graduating four years later with a degree in communications (one of the first blind students in the country to do so.) With his baseball connections, Ed was able to land coveted print and broadcast jobs covering the major league teams in New York City.
In October 1965, Ed got married. Shortly after that, two sons - Edward M. and Christopher - were born. In 1972, his wife walked out on the marriage, leaving him alone with two little boys to raise.
Luckily, Ed had a loving and supportive family who pitched in and helped him with the housekeeping and child rearing duties. At the same time, the New York Yankees were starting to regain prominence, and his workload became bigger. Ed still managed to balance both lives, while buying a larger house for his boys and his mother and sister.
In September of 1979, after seven years, Ed's ex wife came back and announced that she was seeking full and complete custody of the boys.
Ed went to court to and fought a long custody battle, as the case made its way up to the New Jersey Supreme Court. Witness after witness, friends and famous people alike, came forward to testify that he had done a good job raising his sons alone for seven years.

On September 25, 1980, history was made when Ed Lucas was awarded full and complete custody of his children. No male in New Jersey had ever won full custody from a female, and no disabled person in the United States had ever won full custody from a non-disabled spouse. Newspapers all over the globe carried his story as an example of the ways disabled people can achieve great things in society.
In the late 1980's, Ed was introduced by Phil Rizzuto to Allison Pfeifle, his florist, who was also legally blind. After a long courtship, Ed married Allison at home plate in Yankee Stadium on March 10, 2006. This was the first time that anyone was allowed to be married in that hallowed spot, and the wedding made news all over the globe. (The coverage of the wedding on the YES Network was nominated for an Emmy Award.) Director Penny Marshall was a guest at the wedding, and has expressed an interest in bringing Ed's life story to the silver screen.
Ed's two sons now have families of their own, and he is blessed with three grandchildren. In 1995, Ed was inducted into the NJ Sports Hall of Fame, alongside a class that included Super Bowl winning quarterback Joe Theismann and Baseball Hall of Famer Larry Doby. In 2001, Ed was honored to be chosen, along with his sons, as one of the inspirational people to carry the Olympic flame through the streets of New York City on its way to the 2002 Winter Olympics.

Six and a half decades after losing his sight, Ed Lucas, through his production company, "No Cup Or Cane", tries to continue to inspire others and show people with disabilities (both visible and non-visible disabilities), that there are no true handicaps in life. With faith in yourself, a passion for something, and a determination to reach your goals, any obstacle - big or small - can be overcome. He is living proof of this.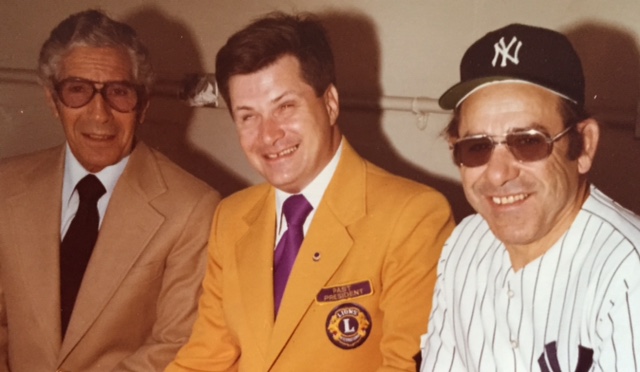 Seeing Home: The Ed Lucas Story is the incredible true tale of a beloved Emmy-winning blind broadcaster who refused to let his disability prevent him from overcoming many challenging obstacles and achieving his dreams.

In 1951, when he was only twelve years old, Ed Lucas was hit between the eyes by a baseball during a sandlot game in Jersey City. He lost his sight forever. To cheer him up, his mother wrote letters to baseball superstars of the day, explaining her son's condition. Soon Ed was invited into their clubhouses and dugouts, as the players and coaches personally made him feel at home.

Despite the warm reception he got from his heroes, Ed was told repeatedly by others that he would never be able to accomplish anything worthwhile because of his limitations. But Hall-of-Famer Phil Rizzuto became Ed's mentor and encouraged him to pursue his passion—broadcasting. Ed then overcame hundreds of barriers, big and small, to become a pioneer—the first blind person covering baseball on a regular basis, a career he has successfully continued for six decades.

Ed may have lost his sight, but he never lost his faith, which got him through many pitfalls and dark days. When Ed's two sons were very young, his wife walked out and left him to raise them all by himself, which he did. Six years later, Ed's ex-wife returned and sued him for full custody, saying that a blind man shouldn't have her kids. The judge agreed, tearing Ed's sons away from their father's loving home. Ed fought the heartbreaking decision with appeals all the way up to the highest level of the court system. Eventually, he prevailed, marking the very first time in US history that a disabled person was awarded custody over a non-disabled spouse.

Even in his later years, Ed is still enjoying a remarkably blessed life. In 2006, he married his second wife, Allison, at home plate in old Yankee Stadium, the only time that such a thing ever happened on that iconic spot. Yankee owner George Steinbrenner himself catered the whole affair, which was shown live on national television.

Seeing Home: The Ed Lucas Story is truly a magical read and a universally uplifting and inspirational tale for everyone, whether or not you happen to be a sports fan. Over his long and amazing life, Ed has collected hundreds of anecdotes from his personal relationships and encounters with everyone, from kings and presidents to movie stars and sports Hall-of-Famers, many of which he shares in this memoir, using his trademark humorous and engaging style, cowritten with his youngest son, Christopher.